A BETTER WAY TO TEACH READING
You'll find the Tamparead's ReadingKEY Program to be the easiest and fastest method for improving reading ability in any child or adult. You'll observe far more progress in far less time using our very special techniques for simultaneously building vocabulary and fluency.
HOW SHOULD READING BE TAUGHT?
For a student to learn to read effectively, he/she must first learn proper phonics and word-attack skills for being able to "figure-out" (decode) unknown words. The reading program should then build upon these skills to teach students the specific words that are common for their current grade and reading level in school. Only when this is accomplished, would it then make sense to move on to comprehension question and answer exercises. Doing it the other way around results in slower progress and is a recipe for disaster for 30-40% of school age children.
TRY IT FREE
Try the first nine weeks of any grade level absolutely free. You'll then see why teachers and entire school districts are now using the ReadingKEY Program to improve student reading ability in ways that other reading programs could never accomplish!
RESEARCH BASED
We are also one of the few reading programs that teach according to research findings from the federal NO CHILD LEFT BEHIND ACT pertaining to "how" children learn to read best. This research clearly shows that the ability to read and comprehend increases dramatically when students have first achieved immediate word-recognition for their grade level reading vocabulary words. Word recognition is simply the process of looking at a word and being able to read it easily - without hesitation. This skill, also known as "fluency," is specifically taught in our program. To further increase efficiency, after detailed computer analysis of popular school textbooks, we've identified the precise reading words for each grade that your child or students need to know for scoring in the top 10% on any national standardized test. For more information click either our Private Tutoring or Teacher Classroom Program below.
Parent
- Private Tutoring
Home School Program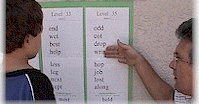 Your student will advance 1 year in 1-3 months
with only 20 minutes daily instruction using
our Fluency Builder Student Reading Wall Vocabulary Program. Yes, even students currently years below
grade level will achieve this amount of progress!
The ReadingKEY Student Program is a no-nonsense approach to improve student reading ability faster than any other method of instruction! Try our free materials to observe a level of learning you never thought possible!
FOR MORE DETAILS/FREE SAMPLES
CLICK HERE
Teacher
Classroom Program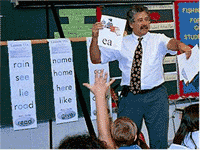 Use our Classroom Vocabulary Program daily in your classroom
to insure all students progress at the necessary rate to remain
on grade level and score well on your state's end-of-year testing.
Just 20-30 minutes is all it takes using our fun and motivational
techniques to generate maximum learning among
all your students!

FOR MORE DETAILS/FREE SAMPLES
CLICK HERE